Oh Yes...MORE icons!
001-034 THE DEVIL WEARS PRADA
035-094 CLOSER
095-099 KEIRA KNIGHTLEY
100-119 FRIENDS
120-126 LEONARDO DICAPRIO
TEASE:


(
Collapse
)
aboleyn
has given me permission to update & re-create her original Titanic (1997) Mood Theme - so i have! I've added a few different images, and played around with the colouring, enjoy!
PREVIEW: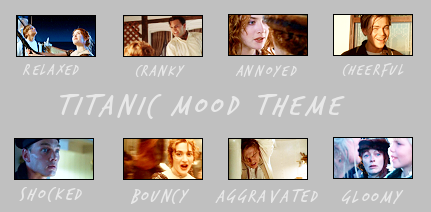 DOWNLOAD
HOW TO INSTALL YOUR CUSTOM MOOD THEME
Comment, Credit, Enjoy! =)